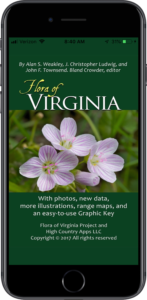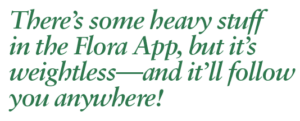 The Flora of Virginia Mobile App puts the full contents of the print Flora into your pocket—and much more.
It features an innovative, easy-to-use Graphic Key, in addition to the traditional dichotomous keys. Most species descriptions contain one to five color photographs, and many include a botanical illustration. Treatments of rare or threatened species include their conservation ranks, and invasives are scored as to their degree of invasiveness. Current county-by-county range maps are included and are now color-coded as to nativity.
Keeping the science current, the App presents the new and the renamed species behind our major end-of-2020 update and a smaller but significant update done in 2021.,
The Flora App is the trail-blazingest information ever compiled on Virginia plants. (And it works great for Maryland, West Virginia—and most of the temperate Eastern Seaboard.)
No Internet connection is required once you have downloaded the App to your device.
$19.99. For Android and iOS devices. Order here:
Click for Android devices.
Click for iOS devices.