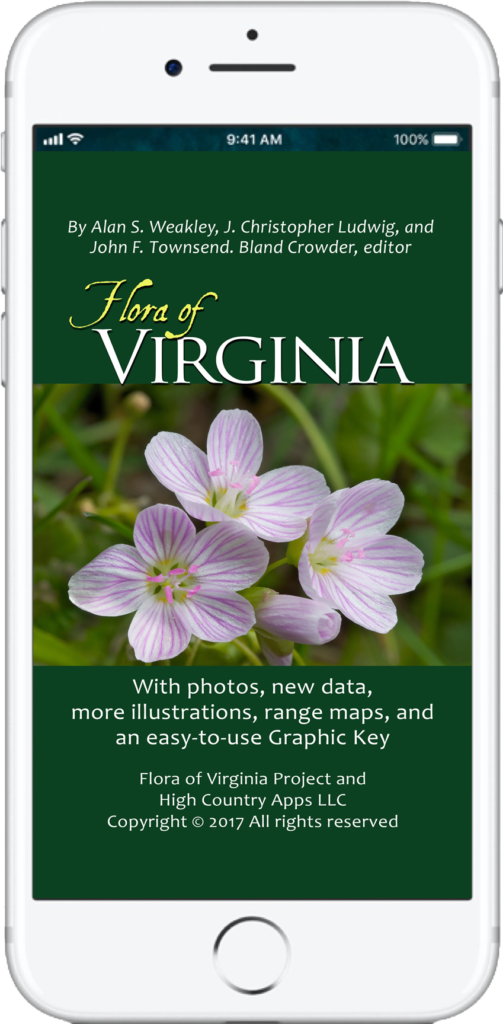 THE FLORA APP was released on September 30, 2017, culminating a project that began in 2010. The App, for Android and iOS devices, contains everything you love from the print Flora of Virginia, with a lot more. It features an easy-to-use Graphic Key, in addition to the traditional dichotomous keys. Most species descriptions contain 1–5 photographs, and many include a botanical illustration. Treatments of rare or threatened species include conservation ranks, and invasives are scored as to level of invasiveness. And county-by-county range maps are now color-coded as to native or nonnative.
No Internet connection is required once it has been downloaded to your device.
The app will revolutionize the way Virginians* learn about plants, and kids as young as sixth grade will carry this mobile Flora with them.
Order via our homepage.
* The Flora of Virginia (book and App) covers the floras of West Virginia and Maryland more than 95%, those of surrounding regions 90–95%, and nearly every other region east of the Mississippi 75–90% (other than the northeast of Maine and the warmer reaches of the Southeast). So our Flora is your flora!