GET YOUR FLORA OF VIRGINIA APP TODAY!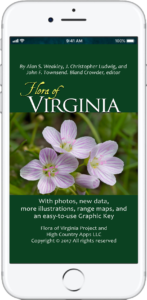 The Flora of Virginia Mobile App puts all the contents of the print Flora of Virginia in your pocket. For Android and iOS devices. $19.99. Order here:
Click for Android devices.
Click for iOS devices.
Banner photographs courtesy Gary P. Fleming.
Photograph of Spring Beauty on App splash screen courtesy Mark Steinmetz.