Now that the Flora of Virginia has been published, we are focusing on helping a range of audiences in using the manual.
The Flora's users have responded to the book with vigor. Flora Talks have been presented for chapters of the Virginia Native Plant Society, groups at Lewis Ginter Botanical Garden, the State Arboretum of Virginia, libraries, garden clubs, museums, Master Gardener and Master Naturalist groups, and local organizations. Universities around Virginia and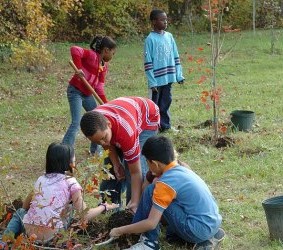 in neighboring states are using the Flora in their plant taxonomy and field botany classes. Work is under way on a Flora App that will provide a portable and searchable Flora, making available data from, among other key sources, the Digital Atlas of the Virginia Flora and the Virginia Natural Heritage Program's ecological plot database, rare plant database, and invasive plant database. Consultants are especially interested in the power of these combined data.
Each group seeks something unique in the Flora, and it is our job to respond to those needs—with programs, workshops, exercises, teacher training, and communication channels. Explore this section of our site to learn more about our education and outreach mission. The information presented will become more specific as we design projects and seek funding to realize and implement them.