Welcome! The Flora of Virginia Project was undertaken in 2001 to steer creation of the first comprehensive reference work on the native and naturalized plants of Virginia. The Project undertook a fourfold mission:
♦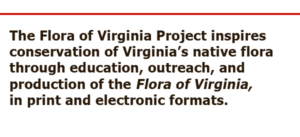 To produce a comprehensive manual of the plants of Virginia.
♦ To provide a tool for plant identification and study by professional and avocational users, from academia, government, industry, and the public.
♦ To incorporate the latest genetics-based information on evolutionary relationships, along with the best traditional taxonomic approaches.
♦ To increase appreciation of and interest in conservation of Virginia's diverse and unique botanical heritage.
The Flora of Virginia, published in November 2012, describes 3,164 plant species or lower taxa in nearly 200 families, accompanied by 1,400 original, captioned, scaled, and botanically accurate illustrations. The taxonomic approach is cutting-edge, based on genetic research that renders other floras for the region obsolete. Plant identification is driven by a series of dichotomous keys.
Descriptions include information on morphology, flowering and fruiting times, habitat, and status, as well as comments that simplify identification or present other information. Users are finding the habitat and status information unique for a flora, and it is helpful to gardeners as well as botanists.
With publication, then, the first three points of our earlier mission were met. Our new mission statement is based on the fourth point, and we have turned our attention to those who are using this manual. Our focus is education and outreach, which includes our Flora Apps. A prototype of the Flora Mobile App will begin testing in late winter 2017 for release in the fall. It will run on smart phones and tablets. Also in 2017 development will begin on the Flora Office App, which will run on laptops and desktops.
The Apps will make available all the information from the Flora—as well as photographs, range maps from the Digital Atlas of the Virginia Flora, additional botanical illustrations, data on rareness, invasiveness, light regime, and moisture regime, and an all-new, easy-to-use Graphic Key. We are also developing a set of learning modules about the Project and how to use the Flora and the Apps.
Banner photographs by Gary P. Fleming