The Interagency Pollinator Health Education and Outreach team has compiled project suggestions for pollinator-related service projects that can be done at National Public Lands Day sites. National Public Lands Day in 2015 is Sept. 26. Project ideas include:
Plant pollinator-friendly species, and join the Million Pollinator Garden Challenge

Plant native grass and flower mixes along roadsides to benefit pollinators
Create a low-impact demonstration garden using native plants
Restore a former parking lot or similar area by planting trees and shrubs
Remove invasive species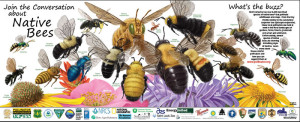 Pick up trash and recycle as much of it as possible to improve pollinator habitat
Create bare-ground patches for native bees
Host pollinator educational programs to inform the public about the importance of pollinators
Create signs and interpretative displays about pollinators
Engage citizens in inventorying pollinator species:
Host a milkweed seed collection day
Make nest for native bees:
There are many resources to help you plan for a pollinator-friendly project for the 2015 National Public Lands Day at Pollinator Partnership website. Learn more about the National Strategy to Promote Pollinator Health.